First Officer William McMaster Murdoch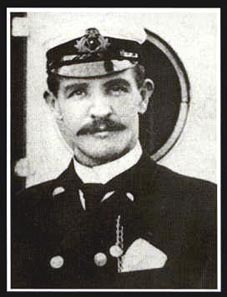 ---
William McMaster Murdoch was born on the 28th of February in 1873, in Dalbeattie, Scotland. He lived in Southampton at the time of the tragedy. He joined the White Star and in his time, signed onto at least eleven liners, including 'Olympic' and 'Titanic'.
He was married to Ada Banks, a passenger he met on a voyage to Australia, in 1907. He was completely devoted to Ada and even shaved off his moustache for her. Sadly they never had any children.
At the time of the collision he was on his watch. After doing all he could to prevent the iceberg hitting, and not being able to do so, he closed the watertight doors. If he felt anything it was pushed to the back of his mind as he diligently and tirelessly tried to get the passengers off into the lifeboats. He stuck at his work and was doing so, trying to free a collapsible off the Bridge, as the Bridge went under. He was a good and sensible man, who was devoted entirely to his job and wife. He was aged 39 at his time of demise.

Chief Steward John Hardy said: "I had Great respect and regret for Officer Murdoch" Adding that he (Murdoch) confided "'I believe She is gone, Hardy' as 'Titanic' sank lower in the sea."
William Murdoch was swept off the deck of the 'Titanic' by a wave he had his back to. It took him by surprise, and he found himself plunged into the ice-cold water. He diligently tried to get back to the lifeboat he had started to launch. His last thoughts, perhaps, were of Ada, and till the very end he tried to do his duty.

Sources: "Good-bye Good Luck: The Biography of William McMaster Murdoch" by Susanne Störmer.
Want to buy a copy of William Murdoch's biography? (The aforementioned one is rare and out of print, but you can now order "A Career at sea")